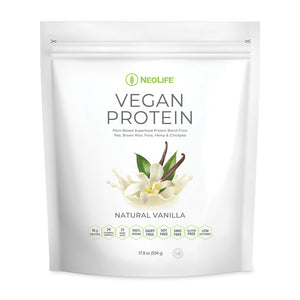 Vegan Protein Shake - Natural Vanilla

Our delicious plant-based superfood protein blend from Pea, Fava, Brown Rice, Chickpea and Hemp helps satisfy hunger while giving you lasting energy. NeoLife Vegan protein is an excellent source of high-quality protein, with the addition of healthy fats, 21 amino acids and 24 essential vitamins and minerals.


---
Highlights

CLINICALLY PROVEN
Clinically Proven Nutrients to Support Brain, Heart, Bone, Vision, Immune, Skin, Energy Metabolism, Weight Maintenance and Overall Health.*
PLANT-BASED PROTEIN
NeoLife Vegan Protein provides 18 grams of biologically complete, high quality, plant-based protein per serving. It is one of the only plant-based protein products to include novel protein sources such as Pea, Fava, Brown Rice, Chickpea and Hemp.

BIOLOGICALLY COMPLETE
Each serving of NeoLife Vegan Protein includes 21 amino acids, including the 9 essentials.
STIMULATE
Branched-chain amino acids (BCAA's) help to stimulate the synthesis of new muscle in the body, so protein that is consumed is used to build new muscle instead of being oxidized for energy.
ENERGIZING
Healthy fats from MCT Oil and High Oleic Sunflower Oil for energy. Support for cognitive and brain health.*
ABSOLUTELY
No artificial colors, flavors, sweeteners, or preservatives added.
Key Benefits
Supports Healthy Blood Sugar Maintenance*
Supports Healthy Regularity & Improved Digestion*
Energizing Healthy Fat Blend*
Details
18 grams of Biologically Complete Protein with 21 Amino Acids
Low Glycemic
Excellent Source of Protein
Less than 0.5g of Added Sugars
No Artificial Colors, Flavors, Sweeteners, or Preservatives added
---
Usage
Simply mix 2 scoops of Vegan Protein and 10 fl. oz. of cold water or non-dairy alternative in a shaker or blender. Blend in a few ice cubes for an even thicker, frothier shake. Optional: Blend with fruits and veggies.

15 servings per pouch


---
Items #3214

* These statements have not been evaluated by the Food and Drug Administration. This product is not intended to diagnose, treat, cure, or prevent any disease.
---
We Also Recommend