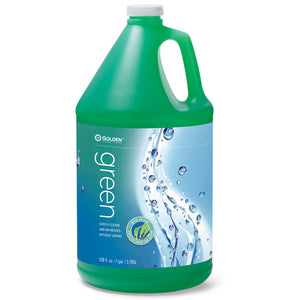 Green Liquid Soap - Gallon
Highlights

CONTAINS KELPRO

Exclusive organic protein base, for effective, gentle cleansing.


NEUTRAL PH

Fully compatible with human skin.


GENTLE

• Non-drying • Cleans hands and leaves them soft.


FREE-RINSING

Leaves no sticky residue to attract dirt, dust or grime.


NONFLAMMABLE

Can be used or stored near heat or open flames.


BIODEGRADABLE
---
Key Benefits
Highly concentrated: just a small amount is needed for effective results to wash hands, face, hair, body, plants, pets, baby clothes, etc.
Cleans hands and leaves them soft.
Contains an exclusive organic protein base, for effective, gentle cleansing.
---
Details
Gently cleans and refreshes, without drying.
Ideal personal care cleanser for the entire family.
Concentrated
Biodegradable
Neutral pH
Lightly fragranced
---
Usage
For hand and body wash: Wet hands or body with water. Use a small amount of Green for a rich cleansing experience. Rinse thoroughly.
For fine washables: Fill a basin or sink with cool water. Add a few drops of Green. Add clothes and wash as usual. Rinse thoroughly. Not for use in washing machines.
To protect hands during dirty chores: Create an "invisible glove." Apply a dime-sized amount of Green to dry hands before tackling dirty jobs. Let dry. When you're done, simply rinse hands with water, using additional Green as needed.
Looking for the perfect Green dispenser for your counter or sink? Click here!

Item #4190 & #4191
---
We Also Recommend