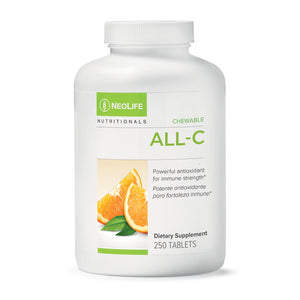 All-C Chewable
Highlights

DELICIOUS

Chewable, cherry-flavored tablet appeals to kids and adults alike!


POTENT ANTIOXIDANT

Vitamin C helps protect body fluids and the watery portions of cells from free-radical damage.



ESSENTIAL NUTRIENT

Vitamin C is required for overall vitality and plays important roles in maintaining the health of connective tissue, blood vessels, immune system cells, eyes, gums, teeth, bones, and other tissues and organs.*


HELPS

maintain cellular integrity, cardiovascular health, and supports healthy aging.
---
Key Benefits
Delicious, chewable tablets.
Supports proper functioning of the immune system.
Neo-Plex Concentrate contains the phytonutrient spectrum of whole oranges.
---
Details
Delicious cherry flavor that both adults and children enjoy.
With rose hips and acerola cherries – nature's richest vitamin C sources.
Exclusive Neo-Plex Concentrate with everything from the orange but the water.
---
Usage
Take 1 chewable tablet daily. 250 tablets per bottle.


---
Item #3332

* These statements have not been evaluated by the Food and Drug Administration. This product is not intended to diagnose, treat, cure, or prevent any disease.
---
We Also Recommend