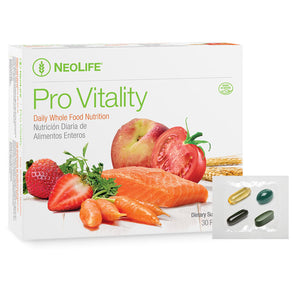 Pro Vitality
From whole grains, fruits, vegetables and fish to help feed, protect, regulate and nourish your cells for lifelong health and vitality.*


---
Highlights


HEALTH

Benefits

· Heart & Brain health · Cellular Health for energy · Optimum immune strength · Flexible, healthy joints · Clear vision · Youthful skin, hair and nails · Natural anti-aging function.*


INCREASED

Immune capacity

Clinically proven to boost immune capacity by 37% in 20 days.*



ESSENTIAL

Vitamin & Mineral complex

21 essential vitamins and minerals. includes exclusive plant-sourced enzymes to support digestion and absorption.*



TRE-EN-EN

Grain concentrates

To enhance energy and vitality by optimizing cellular nutrition.*


CAROTENOID

Complex

Clinically proven by USDA researches to protect your heart, defend your cells and boost your immune power.*


OMEGA-III

Salmon oil plus

Ultra pure high potency. Clinically proven to support heart and cardiovascular health.*
---
Key Benefits
Powerful nutrients that support*:
Abundant Energy
Powerful Antioxidant Protection
Lifelong Heart Health
Optimum Immune Strength
Healthy Brain Function
Flexible, Healthy Joints
Clear Vision
Youthful Skin, Hair & Nails
Lifelong Cellular Health
---
Details
Each packet provides:
Tre-en-en ® Grain Concentrates
Feed your cells - Enhance Your Energy.
Carotenoid Complex ™
Protect your cells - Optimize your immunity.
Omega-III Salmon Oil Plus ™
Balance and regulate your cells - Maximize your good health
Essential Vitamin & Mineral Complex
Nourish Your Cells – More Than Just A Multi
---
Usage
Take 1 packet daily with a meal. 30 packets per box.
---
Item #3143

* These statements have not been evaluated by the Food and Drug Administration. This product is not intended to diagnose, treat, cure, or prevent any disease.
---
We Also Recommend