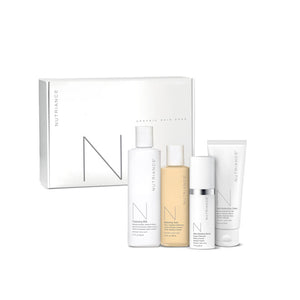 Nutriance Organic Skin Care Set (Normal to Dry)
Nutriance Organic 3 Step System helps you reclaim youth every single day! This Age Defying Cell Activation System harnesses the synergistic properties of the Nutriance Organic line, in 3 simple steps to fight the causes of aging, revitalize stressed skin, reinforce natural defenses against aging & renew cells to visibly restore skin's youthful look.

3 Step System - Normal to Dry

---
Highlights

HIGHEST QUALITY STANDARDS 

The Nutriance Organic line was developed under the most rigorous quality standards, meeting the COSMOS organic standard. This ensures that the product contains ingredients that are guaranteed to be the highest quality.


STEP WISE APPROACH

• 3 Step System includes: - Cleansing Gel - Balancing Tonic - Hydrating Serum - Moisturizing Cream


SCIENTIFICALLY FORMULATED

Nutriance Organic is a scientifically formulated marine botanical based organic skin care line. Formulated in collaboration with leading skin care experts and marine biologists, and clinically tested at prestigious research and dermatology centers based in France. Reinforce natural defenses against aging, and renew cells to visibly restore skin's youthful look!


EXCLUSIVE FORMULA

• 10 Fresh Marine Seaweed Extracts • Pure & Patented Seawater • 15 Essential Oils • 10 Botanical Waters & Botanical Extracts • Barrier Reinforcing Peptides • Essential fatty acids • Protective Antioxidants including carotenoids and polyphenols.


OUR PROMISE

• Clinically Tested • Paraben Free • 100% Vegan • No Animal Testing • Non-Comedogenic


KEY BENEFITS

• Rediscover the healthy, resilient, glowing skin of your youth, and keep it looking younger, longer, with Nutriance Organic - Your Age Defying 3-Step Solution! • Provides protective nutrients, antioxidants and phytonutrients (polyphenols and carotenoids) that help moisture retention and cellular renewal. • Exclusive marine botanicals from brown, green and red seaweed which deliever protective nutrients vital to nourish, soothe and boost skin vital functions, help to assist skin cell renewal and the elimination of toxins and rich in minerals and trace elements to energize the skin


DETAILS

• Nutriance Organic is a scientifically-formulated organic skin care line. With marine botanical ingredients from a protected biosphere, The Molene Archipealgo in Brittany, France, renowned for its exceptional wealth of seaweeds and purity of seawater. • 3 Step System includes: - Cleansing Gel - Balancing Tonic - Hydrating Serum - Moisturizing Cream
---
Key Benefits
Rediscover the healthy, resilient, glowing skin of your youth, and keep it looking younger, longer, with Nutriance Organic - Your Age Defying 3-Step Solution!
Provides protective nutrients, antioxidants and phytonutrients (polyphenols and carotenoids) that help moisture retention and cellular renewal.
Exclusive marine botanicals from brown, green and red seaweed which deliever protective nutrients vital to nourish, soothe and boost skin vital functions, help to assist skin cell renewal and the elimination of toxins and rich in minerals and trace elements to energize the skin.
---
Details
Nutriance Organic is a scientifically-formulated organic skin care line. With marine botanical ingredients from a protected biosphere, The Molene Archipealgo in Brittany, France, renowned for its exceptional wealth of seaweeds and puriy of seawater.
3 Step System includes:

 


- Cleansing Gel
- Balancing Tonic
- Hydrating Serum
- Moisturizing Cream
---
Usage
Apply products to the face and skin in the following 3 Step Age-Defying Cell Activation System:
1. Cleanse & Detoxify: Cleansing Gel
2. Balance & Invigorate: Balancing Tonic
3. Activate & Nourish: Hydrating Serum followed by Hydrating Moisturizer
Item #3965 & #3966
---
We Also Recommend