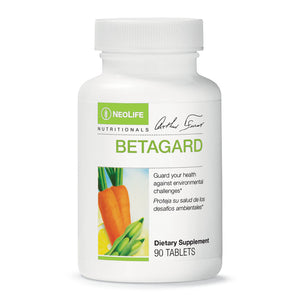 Betagard
Highlights

PROTECTION

Formulated specifically to assist in defending your body against harmful agents in our air, water, and food.


WHOLE FOOD BASED

Antioxidants, vitamins and minerals to protect against environmental toxins.



SYNERGISTIC BLEND

Antioxidants and detoxifying nutrients combine to help your body interrupt toxic processes and protect against cellular damage from environmental pollutants.


BROAD SPECTRUM

With beta-carotene and other carotenoids as they occur naturally in carrots, plus vitamin C and the complete vitamin E family of tocopherols and tocotrienols. Provides as much beta-carotene as two large carrots. B-vitamins, including riboflavin, niacin, and pyridoxine, and magnesium, help detoxify foreign substances.
---
Key Benefits
Promotes the body's natural detoxifying processes.
Helps guard your health against environmental and free radical challenges.
Delivers B-vitamins that assist in detoxifying environmental pollutants.
Beta Gard includes zinc, GTF chromium and selenium, which have been shown to play an important role in the body's response to heavy metal exposure.
---
Details
Your first line of nutritional defense against damaging free radicals from pollution, exhaust fumes, chemicals, smog and other environmental toxins*
Proprietary formulation of carefully selected vitamins, minerals and carotenoids that strengthen the body's natural ability to detoxify and neutralize harmful agents that negatively impact health*
Exclusive amino acid chelation supports improved absorption of beneficial minerals.
---
Usage
Take 3 tablets daily - 90 tablets per bottle.
---
Item #3530

* These statements have not been evaluated by the Food and Drug Administration. This product is not intended to diagnose, treat, cure, or prevent any disease.
---
We Also Recommend