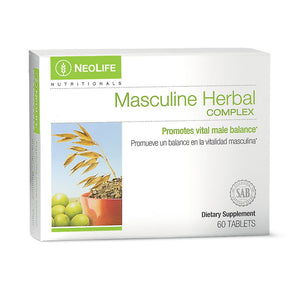 Masculine Herbal Complex
Key Benefits
Supports masculine vitality and healthy prostate function.
Ingredients to improve physical vitality and libido.
---
Details
Saw palmetto promotes male vitality and has been shown to support prostate and urinary tract health*
Includes avena sativa for renewed physical vitality and libido, and damiana, a tonic for the nervous system, also known to energize mood*
---
Usage
Take 1 tablet each morning and night. 60 tablets per box.


---
Item #3625

* These statements have not been evaluated by the Food and Drug Administration. This product is not intended to diagnose, treat, cure, or prevent any disease.
---
We Also Recommend