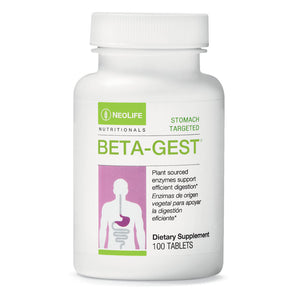 Beta-Gest Digestive Aid
Highlights

STOMACH TARGETED

Beta-Gest

• Eases heartburn, gas and bloating before it starts • Restores natural stomach acid and digestive factors*


DUAL PURPOSE

• Supports protein digestion: betaine hydrochloride and acid-stable, acid-activated proteases including papain. • Non-habit-forming


HELPS

digest problem foods

including dairy products, and protein – especially important for large meals* and for those who are lactose sensitive


CONTROLLED-RELEASE

of digestive acid

for prolonged effectiveness


PLANT-SOURCED

acid stable enzymes
---
Key Benefits
Eases heartburn, gas and bloating before it starts.
Supports efficient digestion in the stomach.
---
Details
Restores natural stomach acid and digestive factors compromised by age or stress*
Helps digest problem foods including dairy products, and protein – especially important for large meals and for those who are lactose sensitive*
Controlled-release of digestive acid for prolonged effectiveness
100% plant-sourced, acid stable enzymes
---
Usage
Take 1-3 tablets daily, immediately before or with food. 100 tablets per bottle.


---
Item #3521

* These statements have not been evaluated by the Food and Drug Administration. This product is not intended to diagnose, treat, cure, or prevent any disease.
---
We Also Recommend