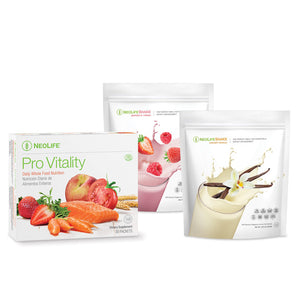 Breakfast Solution

Get a healthy start to an energy-filled day with a 30-day supply of breakfast! Designed for optimal cellular nutrition by giving your body key whole food nutrients and protein, the building blocks of life. Contains one (30-serving) box of Pro Vitality and two (15-serving) NeoLifeShake pouches.
---
Key Benefits
NeoLifeShake
18g of lean protein essential for cellular nutrition and energy, with 5g of fiber
Glycemic Response Control Technology helps minimize fat storage and promote fat burning*
Includes muscle-retaining branched chain amino acid Leucine*
Promotes Gut-Brain Satiety Signaling*
Pro Vitality Pack
Powerful nutrients that support*:
Abundant Energy
Powerful Antioxidant Protection
Lifelong Heart Health
Optimum Immune Strength
Healthy Brain Function
Flexible, Healthy Joints
Clear Vision
Youthful Skin, Hair & Nails
Lifelong Cellular Health
---
Details
Proprietary blend of 18 grams high quality protein
5 grams of satisfying fiber
Biologically complete with 22 amino acids and 25 vitamins and minerals
No artificial anything
Mixes easily in water
Only 140 calories
Gluten free
Pro Vitality Pack

Each packet provides:
Tre-en-en ® Grain Concentrates
Feed your cells - Enhance Your Energy.
Carotenoid Complex ™
Protect your cells - Optimize your immunity.
Omega-III Salmon Oil Plus ™
Balance and regulate your cells - Maximize your good health
Essential Vitamin & Mineral Complex
Nourish Your Cells – More Than Just A Multi
---
Usage
NeoLifeShake
Simply mix two scoops in 8 fl. oz. ice cold water in a shaker or blender. Blend in a few ice cubes for an even thicker, frothier drink. Can also be mixed in milk. Use as a meal replacement for weight management, or for delicious and healthy nutrition everyday.
2 pouches included - 15 servings per pouch. 
Pro Vitality Pack
Take 1 packet daily with a meal. 30 packets per box.
---
Items #2921A-F #2920 #3143 #3805 #3804 #3806

* These statements have not been evaluated by the Food and Drug Administration. This product is not intended to diagnose, treat, cure, or prevent any disease.
*The Breakfast Pack is perfect for prenatal and pregnancy care and nutrition.
---
We Also Recommend