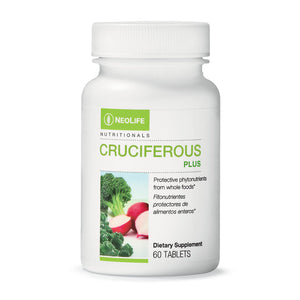 Cruciferous Plus

Phytonutrient power of cruciferous vegetables in a convenient tablet.


---
Highlights


DIETS RICH

in cruciferous vegetables are linked with a low risk for developing certain cancers (breast, prostate, lining of the uterus, lung, colon and other digestive tract cancers).


DIVERSE PHYTONUTRIENTS

Supplies other beneficial phytonutrients — limonene from oranges, chalcones from licorice root, and isoflavones from soybeans — which research has shown can help protect cells from cancer. Contains sulforaphane, an important phytonutrient in that helps neutralize carcinogens and other toxins.


WHOLE FOOD BASED

Exclusive Cruciferous Blend contains broccoli, radish, kale, black mustard, brown mustard, and watercress.


TESTED AND PROVEN

according to National Cancer Institute Protocols to support immune function.
---
Key Benefits
Tested and proven under United States National Cancer Institute protocols to protect and defend cells and tissues.
Each tablet provides the phytonutrient value of an optimal serving of a wide variety of cruciferous vegetables.
---
Details
Powerful nutrients in cruciferous vegetables broccoli, radishes, kale, black & brown mustard, and watercress, often missing from our diet, support healthy enzyme activity linked to healthy cell growth particularly in breast and prostate tissue*
Provides sulphoraphane, associated with neutralizing cancer causing compounds*
Soy isoflavones help maintain optimal hormonal activity*
---
Usage
Take 1 tablet daily with food. 60 tablets per bottle.


---
Item #3301

* These statements have not been evaluated by the Food and Drug Administration. This product is not intended to diagnose, treat, cure, or prevent any disease.
---
We Also Recommend