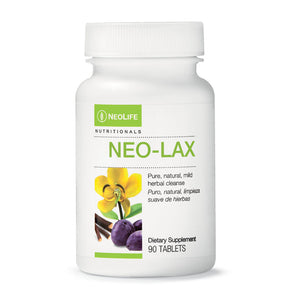 Neo-Lax
Highlights

COMPREHENSIVE FORMULA

• Unique "complete family" approach to the formula provides broad, synergistic effects of the herbal constituents, which optimizes their ability to support optimal wellness via healthy elimination and internal cleansing. • Non-habit-forming.


BUCKTHORN BARK

Has been shown to assist with easy stool movement and other eliminative functions. Standardized to 20 mg total glucofrangulins per serving.


SENNA

Has been shown to support natural peristaltic action in the lower digestive tract. Standardized to 16 mg total sennosides per serving.


LICORICE

Supports ease of elimination and also calms and soothes distressed tissues in the digestive tract.
---
Key Benefits
Proprietary formula of complementary herbs to support proper elimination.
Supports natural bowel function during occasional periods of irregularity.
Works without cramping or "griping."
---
Details
Encourages a mild cleansing action to aid the body's natural processes*
Proprietary formula of 8 complementary herbs including Senna
---
Usage
As a mild inner cleanse, take 1 to 2 tablets with a glass of water at bedtime. Take another glass of water when you wake up. Neo-Lax works gently overnight. 90 tablets per bottle.


---
Item #3632

* These statements have not been evaluated by the Food and Drug Administration. This product is not intended to diagnose, treat, cure, or prevent any disease.
---
We Also Recommend