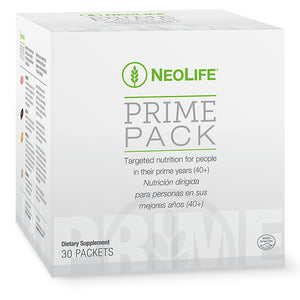 Prime Pack

Targeted nutrition for people in their prime years (40+)
Highlights

OVERVIEW

Healthy heart & brain, antioxidant protection and digestive support.



NUTRITION

for your prime years.


STACK

your pack. Perfect stack-on to Pro Vitality, daily whole food nutrition pack.


LIPOZYME

Heart healthy lipotropic factors to help metabolize fat in the bloodstream. Plus calcium and a broad spectrum of enzymes for healthy digestion and nutrient absorption.*


LECITHIN

Supports key brain functions including memory and muscle control. Exclusive whole food derived formula.*


PRIME B & C

High potency vitamin formula. B vitamins support energy metabolism, heart health, stress & DNA synthesis. Vitamin C supports immune strength. Threshold controlled delivery for maximum bioavailability.*


SELENIUM E

Antioxidant protection from natural vitamin E. Plus key minerals and calcium.*

Take 1 packet daily. 30 packets per box.
---
Item #3112

* These statements have not been evaluated by the Food and Drug Administration. This product is not intended to diagnose, treat, cure, or prevent any disease.
---
We Also Recommend