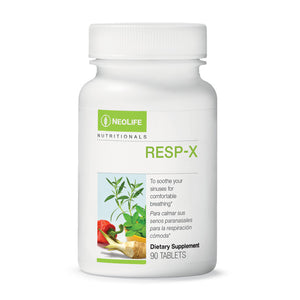 Resp-X (Resp Eleven Replacement)
Resp-X delivers a synergistic blend of ten powerful ingredients that have a long history of safe and effective use, without the side effects of drugs. This proprietary blend combines ancient herbal knowledge and leading-edge science to support free, comfortable breathing and upper respiratory function.


A powerful blend including:

     


HORSERADISH ROOT

Supports normal airflow in the sinuses and lungs, and promotes a healthy immune response.






THYME & HYSSOP

Promote calm and unrestricted airflow, and healthy and clear lungs.





Plus, a synergistic blend of other herbs which also contribute to optimal function of the upper respiratory tract. Rich in phytonutrients for energy and vitality.

Key Benefits
Helps clear your sinuses and soothe distressed tissue for free, comfortable breathing*
Comprehensive formula contains a proprietary blend of ingredients which provide the broad, synergistic effects of the herbal constituents to support a healthy respiratory tract*
Details
Contains horseradish root to support normal airflow in the sinuses and lungs, and promote a healthy immune response*
Includes thyme and hyssop to promote clear open airways
Contains Fenugreek to soothe and calm distressed tissue. May help to normalize body temperature*
Usage
1 tablet as needed - 90 Tablets per bottle.


Item #3652

*Resp-X is the replacement product for Resp-Eleven, now with a new and improved formula.

* These statements have not been evaluated by the Food and Drug Administration. This product is not intended to diagnose, treat, cure, or prevent any disease.
---
We Also Recommend