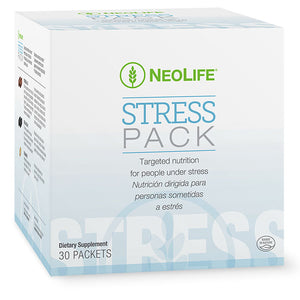 Stress Pack

Targeted nutrition for people under stress.

Highlights

OVERVIEW

Replenish nutrients lost under stress. Support strong immunity and overall energy.*


STACK

Your pack. Perfect stack-on to Pro Vitality, daily whole food nutrition pack.



COMBAT

The effects of stress*


STRESS B & C

Extra high potency vitamin formula. B vitamins support energy metabolism, heart health, stress & DNA synthesis. Vitamin C supports immune strength. Threshold controlled delivery for maximum bioavailability.*


CHELA-SEA M

Full-body support from unique sea sourced minerals including iron. Exclusive double amino acid chelation for enhanced absorption.*


SELENIUM E

Antioxidant protection from natural vitamin E. Plus key minerals and calcium.*


Take 1 packet daily. 30 packets per box. Stress Pack is the perfect replacement product for customers who previously used Stress 30.
---
Item #3110

* These statements have not been evaluated by the Food and Drug Administration. This product is not intended to diagnose, treat, cure, or prevent any disease.
---
We Also Recommend