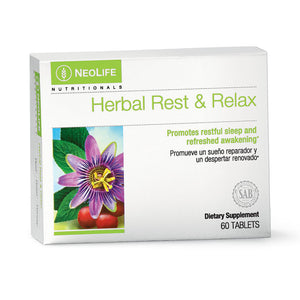 Herbal Rest & Relax
Key Benefits
Promotes restful sleep and refreshed awakening.
Help lift mood and promote calm relaxation.
---
Details
Contains 8 herbs in an effective, balanced mix to help rest and relax*
Lemon balm, skullcap, schisandra, and passion flower promote calm relaxation*
Damiana and St. John's Wort help lift mood and support healthy sleep patterns*
Verbena and German chamomile provide a complementary effect
---
Usage
Take 1 tablet at evening meal and 1 at bedtime. 60 tablets per box.


---
Item #3645

* These statements have not been evaluated by the Food and Drug Administration. This product is not intended to diagnose, treat, cure, or prevent any disease.
---
We Also Recommend