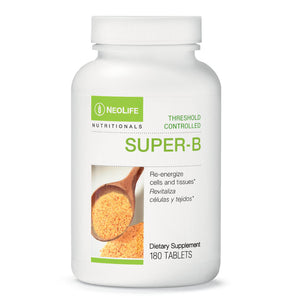 Super B Threshold Control
Highlights

B VITAMINS

Play an important role in promoting a healthy cardiovascular system and are crucial to immune response and mental acuity.*


EXCLUSIVE FORMULA

Derived from biologically-bound yeast. Unique whole-food source provides B-vitamins in naturally-occurring ratios.


COMPLETE

Contains 8 members of the dietarily essential B-vitamin family, plus choline and inositol.


THRESHOLD CONTROLLED

technology

for sustained release of B-complex nutrients over a period of six hours


HIGH POTENCY

Provides maximum metabolic support to help meet high nutrient demands during exercise and periods of stress.*
---
Key Benefits
Promotes the active conversion of all food into energy and assists in synthesis and reenergizing of cells and tissues throughout the body.
---
Details
Threshold controlled for sustained release of nutrients
Perfect balance of all 8 B vitamins, plus inositol and choline
Lipotropic factors and heart-healthy nutrients
Unique whole-food source
High potency – for optimum metabolic support
---
Usage
Take 1 tablet daily. 180 tablets per bottle.


---
Item #3321

* These statements have not been evaluated by the Food and Drug Administration. This product is not intended to diagnose, treat, cure, or prevent any disease.
---
We Also Recommend